Michel Benebig is an awesome Hammond organ player. It's not hard to see why guys like Jimmy Smith were happy to hang out with him, or that Tony Monaco considers him a close personal friend. Not only can this guy play, but he really is one hell of a nice person.
After sending hundreds of emails in regards to setting up a tour for Michel, the day finally came and he arrived at the store. He wasn't tired at all. He just wanted to sink his teeth into the New B-3 and that he did. I was awestruck as he played all the classic Hammond language with precision and ease. It was really good for me to see that skill up close. I only get to hear it on CD, but Michel has actually met the masters and learned straight from the source. We hung out and talked a bit about Hammond players and Hammond playing and all the other stuff musicians rave on about, then it was time to leave.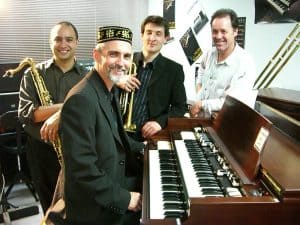 Sunday morning at 9am, I arrived at Michel's hotel to pick up him and Vaughn Roberts (a fine trumpeter from out friendly neighboring New Zealand) and take them to radio 3PBS headquarters in Collingwood for a live-to-air performance. Far too early for me, considering I'd had a gig the night before and got home somewhere in the vicinity of 3am. Still, it had to be done and we had great fun. Mike Jordan and Adam Simmons were there ready to go and off they went. Straight to air without a rehearsal. Michel had brought the sheet music to his original tunes and handed them out to the guys and they had no problems reading and interpreting what Michel's ideas were. I love professional musicians!
Bernie's daughter, Michelle, was a great help manning the phones at 3PBS studios, but she soon got distracted (must have been that whole working on a Sunday thing) so she decided that we simply must do a spot of shopping at the Victoria Markets. "Come on Michel, you're going to love it!" I heard her say. We all know who loved it the most! (Thanks Kim! You spent just as much money as me! –Michelle)
Later that night it was on to the famous Bennetts Lane Jazz Club in the city for a full 2 set gig starting at 9:30pm. As you can imagine, everyone was getting fairly tired by now, but alas, the show must go on. I felt sorry for Mike Jordan. He'd done the radio show in the morning, off to play at the Mentone Hotel in the afternoon, and on to this gig at night. What a trooper. The crowd enjoyed the show immensely as Michel plowed through his original repertoire and gave the organ everything he had.
Onto the Paris Cat and we had some real fun. Bernie's other daughter, Lisa, arrived for the party and you'd better believe that it was. We all had a great time, even Craig! Michel was up to his usual tricks and played the hell out of the organ. Many of the younger people in the audience were in awe of this little man belting out groovy tunes on this beast of an instrument and wondering "Where's the bass coming from?"
Michel offered private workshops here at the store for the weekend and many of the guys took him up on the offer. I suppose they just had to know how this amazing sound was being created.
I'm sure most of you were here for the in-store appearance and it was one of the largest crowds I've seen here in a while. I was most pleased to see Sue Leitch up the front and having the time of her life. I remember talking to her later and Sue saying, "Oh, you know I love this stuff". That's always nice to hear. Michel was extremely informative with helpful suggestions on drawbar settings and classic techniques. Again, the band was bubbling and cooking away, twisting and turning with all Michel's awesome moves. Be sure to keep an ear out for the Live at Bernies recording. It's sure to be a hit.
Sunday night and it was the last gig in Melbourne. A bit of a quiet night due to the St. Kilda festival. It was, however, a really nice way to wind down the hectic pace. A few special guests appeared including KNAG guitarist Neil Boland (the KNAG CD should be available as this goes to print, so be sure to come down and get your copy!) and Bomba saxophonist Peter Mitchell (as seen in the movie "Kenny") made for a really memorable evening.
Michel flew out after a special guest appearance himself at the world famous Rainbow Hotel with the Paul Williamson Hammond Combo, and on to Sydney for a workshop at the Sydney's home of Hammond "Carlingford Music Centre". One of the highlights of the trip for Michel was the Organ Summit, live at the Basement, another famous Australian jazz club.
With so much going on here, I wouldn't be surprised if Michel was kicking up his heels on a New Caledonian beach. He sent us a few photos of Noumea. I think I'd like to visit him sometime.                                                                                                     Kim K.