Tony Monaco – Jazz Legend
It all began about five years ago at the, "Hammond Eggs," breakfast at the music trade fair in Los Angeles. Bernie met this enthusiastic, groovy Hammond player called Tony Monaco, who was entertaining at the breakfast. Tony is an amazing Hammond organ player, renowned in America and had just been contracted to endorse the Hammond instruments.
Since this time, Bernie has met with Tony each year at the trade show, and had the chance to experience the incredible vibe that he creates with his playing. You can feel his passion for the instruments and his music comes from the soul.
It's very difficult to get a musician of that calibre to Australia (well, not without a nice budget and pulling a few strings). So Bernie had to think of another approach. During his meetings with Hammond Japan, Bernie approached the team for support to bring Tony to Oz. With the Australian Trade Show in September, this is a good time to link in promotions with other dealers from interstate, plus here in Melbourne. Hammond said they would help!
Tony could afford about 10 days here in Australia. Although this was a brief trip, we managed to fit in the three-day Trade Show in Queensland, a workshop at Sydney University an evening performance at Sydney's Wine Bar, a Live at Bernies performance and even a special guest spot at the Kelvin Club in Melbourne CBD, thanks to our friend Tim Neal. Combine this with touring, sightseeing and dinners, and Tony and his wife Kathaleen had a very busy 10 days!
Tony was here to showcase the new Hammond instruments, particularly the new B-3 and the new XK-System. Word spread quickly, and people even travelled from New Zealand to hear him. At his first performance, at the trade show lounge, Tony had crowds' mesmerised and they actually cancelled his follow-on act so he could play for the whole night. His hands and feet move like lightening and it's like nothing I've ever seen. Tony was even standing on the organ stool playing with his hands, feet and noes at the same time! His skills are truly spectacular and I can understand why Hammond is proud to have him as an ambassador.
I think us Aussies made a good impression on Tony. He loved the place! His favourite was the Sydney Harbour cruise that Bernie took him on – spectacular weather made this quite an experience. He also had a lot of fun at the Vic Market, where we spent quite some time finding the perfect didgeridoo for Tony to take home to his studio. It had to have just the right tone – full and rich, plus be quite decorative – preferably carved and painted. I listened to so many didgeridoos that morning that I almost couldn't hear! Then I had to repeat a few hook-turns while Tony almost cried with laughter at the funny things us Aussies do!
If you're interested in finding out more about Tony, please read his brief biography below and check out his website www.b3monaco.com. We're trying to entice Tony to visit Australia again in the coming year, and hopefully we'll have lots of time to invite you to his activities. Stay tuned to MusiClub for this awesome performer and much more.
Michelle C.
Read about the legend…
Tony Monaco Biography
On Tony's sixteenth birthday, he received a phone call from Jimmy Smith. This was a great honour. Jimmy Smith gave Tony Jazz Organ secrets over the phone while he was playing in night clubs around Ohio. Jimmy encouraged Tony's love of the organ. When he was twenty, Jimmy Smith invited Tony to come play with him at his club in Woodland Hills L.A., California. Tony has also spent time learning from Hank Marr, Bobby Pierce and Dr. Lonnie Smith. From this amazing beginning, Tony Monaco is now recognised by fans and the industry as a great jazz player.
In April 2000, Tony met Jazz Organist Joey DeFrancesco and Joey offered to produce a CD for him. The two of them have become great friends and Joey is also featured on the CD.
Tony began expanding his playing nationally in 2001 and his second CD reached the top 10 on the Jazz radio charts. Tony now travels and plays the "New B3" organ from Hammond and his relationship with the Hammond company is as strong as his love of their instruments.
Recent highlights for Tony have included giving a jazz organ clinic at the 2003 International Association of Jazz Educators in Canada, attending the Winter NAMM show for Hammond/Suzuki, performing at the Illinois State University "GLT" Jazz concert series as with the great Ron Carter and releasing his fourth CD, "A New Generation," on the new Hammond B3 organ. He has built a recording studio into his new home and is working on a new CD plus an instructional DVD, "Playing Jazz Hammond".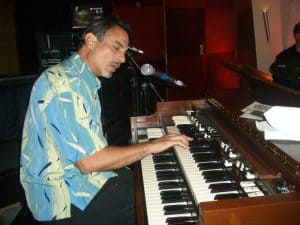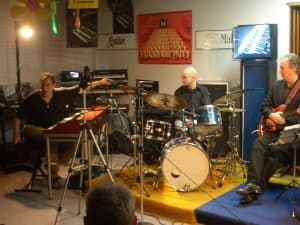 (left) Tony sitting at the Hammond with Bernie, Bill, Linda and friends from Carlingford Music, Sydney and (right) The passionate Tony Monaco giving a workshop on the Bernies stage.