Way back in June 2005, Hammond rang us up and said that awesome organist, Tony Nardi, was visiting Australia from USA with his wife and could he perform here at Bernies. The answer, of course, was a huge 'yes'!
Now, seven years later, Tony finally returned to Australia and came back to play on the Bernies stage.
Tony's an old school Hammond player – born in Chicago and raised by "old town blues bands". His first two successful bands were way back in 1966 during his military stint. "Cheques" produced some great regional hits and was signed by Stax Records in Memphis. When Tony was reassigned, the band split and he bought his beloved 1937 Hammond B organ.
Throughout the 70's and 80's, Tony was a full time muso and played on the road for 14 years straight. This included three European tours and residency at Chicago's famous Palmer House, where he met and played alongside some incredible musicians. They would say "Tony's left foot is the best bass player in Arkansas"!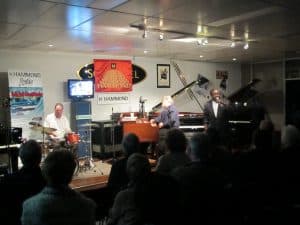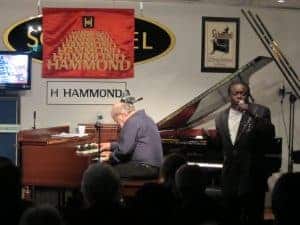 Over the years, Tony has been a popular performer at festivals including the Spa City Blues Festival and Hot Springs Jazz Festival. Tony owns a Hammond XK System organ and loves using it for all his gigs. In 2010, he reunited with Salt & Pepper vocalist, Eddie Mobley and they now play regularly as a soul, jazz and blues group. It was great to have Eddie here in Australia and we were so lucky to hear him perform on the Bernies stage.
Tony, along with his wife Karla and friend Eddie Mobley, touched down in Melbourne in May. Tony played two gigs at Bernies Music Land on May 17th, impressing crowds of music lovers ranging in age from 20's through to… well, let's just say "young at heart".
The first half of Tony's performance was full of fabulous organ solos, along with drummer Mike Jordan. Mike is a fabulous drummer and the two muso's found their "groove" instantly. I loved the smooth way Tony played "Whiter Shade of Pale" and it took me back to the days when Dad would play the organ at night as I was falling asleep, all those wonderful 70's tunes like "Aquarius" and "Michelle".
After interval, Eddie got up and sang with Tony and Mike, with his deep, rich, husky voice. Every note was effortless, like he was born to sing the blues. Eddie did his own version of "Georgia" and I could have listened to him forever!
The day after the gigs, Tony came back to the store to give a handful of lessons to keen Hammond players. This was a great chance to pick up unique playing tips from this awesome organist.
It was fantastic to have Tony Nardi back on the Bernies stage! The night was recorded and we look forward to having Tony as one of our very special "Live at Bernies" CD lable artists.
Michelle C.